"After tonight, Coachella gotta re-name Coachella to BEYchella. NEW NAME ALERT" 🚨🚨🚨-DJ Khaled. 
The 2-weekend long music festival held in the desert lands of California, formerly known as "Coachella", will never be the same.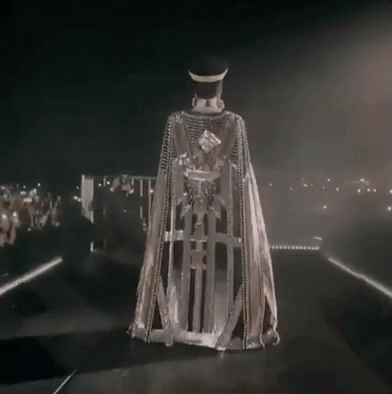 Long before DJ Khaled re-named Coachella, to BEYchella, the BEY hive was already using the term in anticipation of Beyoncé's first performance since giving birth to the twins, Rumi and Sir. 
It started with Weekend 1. That Saturday after a long day of work, stormchasing and what not ⛈ ☔️ I had been looking forward to seeing Bey on the big screen. 
 I rushed home, logged onto YouTube, and watched Rapper Post Malone for what felt like hours as I patiently awaited Queen Bey. Even though I was going to the festival the very next week, I didn't care about "ruining the surprise".
My eyes were glued to the screen the entire time. I only looked away to blink or to jump up and do the dances. Beyoncé gave a flawless 2-hour long performance making history as the first black woman to headline Coachella. She even brought out Destiny's Child, her hubby Hova (Jay Z), and her sister Solange! 
I definitely cried, and have no shame.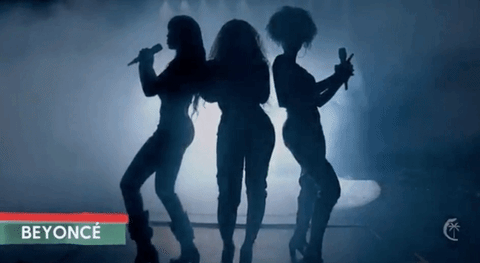 This only made the anticipation for the next weekend even greater. I kept wondering how Beyoncé would outdo Beyoncé. Would she bring out Blue and the twins? Would she bring out the original Destiny's Child,  when there were four? Either way, I was amped about the show and I could not wait. 
Finally, Saturday, April 21st rolls around, and 'twas BEYchella Day! 
After cooking a healthy breakfast and hanging by the pool, the squad got in Formation, with our best Beyoncé fits on and plenty of water to quench our Beyoncé thirst. 
We got to Coachella around 6:00 p.m. and began finessing our way through the crowd. Next thing you know, we were in the front! But, it wasn't an easy journey, it was like a game of "Survivor" (Get it?) 
People were packed like sardines. I witnessed about 5 people being whisked away by medics after fainting from heat exhaustion. It was pure madness. I almost felt myself start to die, but I had already made it this far and I wasn't gonna lose my spot!
My girls and I watched Tyler the Creator who was amazing as we patiently awaited Queen BEY. There was also this other female group who performed after Tyler that no one really knew. But, we didn't care because , BEYONCÉ.
The show began the exact same way as we had seen the weekend before, in fact much of the performance was the same, but, Beyoncé was still able to "WOW!" us all leaving many wig-less and some of us scalpless. In true BEY fashion, she had new costumes, a new hairstyle, and a few tweaks to some of her routines. And, since her performance wasn't streamed the second time around, it felt so intimate!!!
Watching Beyoncé on TV and in-person are so different, it's difficult to explain. The energy you feel from the stage, and simply being there with her as she performs is magical. ✨
Here are some side by sides of the different looks from Weekend 1 & Weekend 2 of Beychella.
Photo Cred: @BeyoncePageFan81
Phot Cred: @ Beyoncé the 
Photo Cred: @Beyoncé
Photo Cred: @ Beyoncé & @ KellyRowland
I loved all of her costumes, but my favorite are from weekend 2!
Zora's Festival Fashion: 
Now let's get to what I wore!
Weekend 2 Day 1: Coachella/Beychella
Hair is just as much of a fashion statement as your clothes are! Since I don't get to do much with my hair, on the weekends or while I'm on vacation, I try out new styles! The last time rocked faux locks I loved them! 
This time I wanted to try them in brown.(Side-note: I did them myself😬 but my friend Jade re-twisted them and made my goddess locks look real 'Goddessy'. Thanks Girl!
The overalls are from Plato's Closet. I rocked the look with an off shoulder look paired with a Forever 21 nude body-suit underneath. The tan cowboy booties are also Forever 21! 
That night I got to watch the beautiful SZA and The Weeknd on Coachella's Main Stage. 
Weekend 2, Day 2: BEYCHELLA 🐝🎡 
Now onto BEY-day style!  
This one-piece swimsuit screamed Coachella! I saw it at Forever 21 and had to get it! I will be rocking this one a lot this summer. Look at the desert detail! 🌵 You can find the same one-piece by clicking here. 
For the festival, the girls and I agreed on wearing Black & Gold for Bey. 
My black mesh body-suit is from Forever 21. The faux leather mini-skirt is from Plato's Closet and the boots are from Sam & Libby.
Sunday Funday at Coachella:
Besides seeing Beyoncé perform, Day 3 was the next highlight of my weekend. The Krewe was wore out, but we still managed to make it to see Cardi, 6lack, and the Migos perform. They were all incredible. Fun fact: Beyoncé and Jay Z were watching 6lack backstage at the same time we were watching him, and we're waiting to meet him after the concert. That's according to an Instagram post from 6lack. 
Also during the Migos concert, Fabulous and his long-time girlfriend Emily B passed right behind us. (The first time they have been seen public since the domestic violence incident a week ago👀).
All good things come to an end. I came back from my desert paradise with the "Coachella Cough" and now I wish I would have worn this bandana over my face instead of my head. But, BEYchella was worth it! 
More pictures and video from Coachella/BEYchella 2018: