Laissez Les Bons Temps Rouler!
If you are from the deep south (Louisiana, Lower Mississippi, and Lower Alabama) then chances are, you know what "laizzez les bons temps rouler" means. It's pronounced something like "Lazy lay bon taan rule-lay" and it's Cajun French for  "Let the Good Times Roll"!
You often hear it being shouted out during a Mardi Gras Ball or Parade.
And here in Mobile, AL...we take Mardi Gras seriously. 
Many people don't know that Mobile (pronounced Mo-Beel) was the first place to make Mardi Gras an American Tradition. That's right! New Orleans took it and made the celebration what it is today. But, the centuries old "Carribean Carnival" tradition originated in Mobile. A true Mobilian won't let you forget it! The only reason this Texas girl knows so much, is because I have the honor of knowing the KING of Mardi Gras.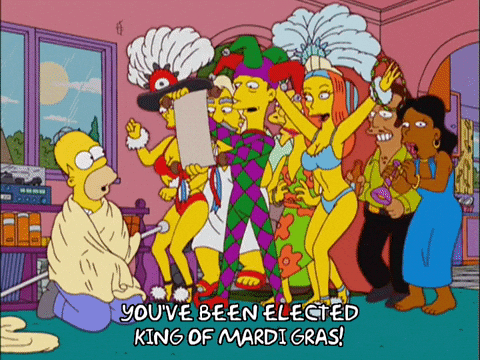 Meet Darwin Singleton. You often see him in my snapchats, on my Instagram stories, or as the morning Anchor on channel 15!  
Around these parts he's known as the King of Mardi Gras or Mr. Mardi Gras. 
Darwin has been in Mobile for more than 15 years, and knows a little something about Mardi Gras. He made sure to teach me the ropes and "school me" on the Mardi Gras tradition. Last year, I missed out on most of the festivities, but THIS year I couldn't miss out! #FOMO
Often referred to as Carnival Season, or Mardi Gras, it is custom to go to parades and balls. There are literally dozens of balls and parades beginning in early January on "twelfth night" or the "epiphany" (Jaunary 6th) leading all the way up to Fat Tuesday, the day before Ash Wednesday. 
An upsetting fact that I learned is that even in 2018 most Mardi Gras Balls here in Mobile are segregated!
You read that right, there are your black balls and there are your white balls. Very few Mardi Gras societies have integrated balls. The Order of Osiris is known as the biggest "Gay ball" which welcomes any and everyone whether you are LGBTQ, Black, White, Red, Blue, or Orange! Being a multi-racial woman, I find it sad that in this day and age there is still segregation and racism. 😞I made sure to choose balls that welcome people from all walks of life ✊🏻✊🏼✊🏽✊🏾✊🏿.
I planned on going to 3 balls this year, and finding the right gown, shoes, and accessories for each ball can be expensive!  Here are a few looks I put together, each look was under $100!
Secondliners Ball 
The Secondliners Ball is one of the first balls to kick off Mardi Gras Season. This is historically a black ball. A "Second-line" is a tradition in Mobile and New Orleans where a brass band parades after the "main line" or "first line" in a parade. Those who follow the band just to enjoy the music are called the "second line." You will see many people adorned in masquerade attire and fancy umbrellas. You will see people of all races joining in on a second-line! 
 The look for this ball was done literally using what was in my closet. It used to be a floor length gown, I cut it and made it a mini-dress for a Halloween costume, then rocked it again as a ball gown. I kinda wish I would have left it long! 
I was invited to this ball by the Queen of Mardi Gras, Kym Anderson! She is our evening Anchor for channel 15. She slayeddd! 
The Order of Osiris Ball
 It is one of the most highly anticipated balls of Mardi Gras season. Being one of the few integrated balls, it is a hit!
I was invited by the one and only Mr. Mardi Gras and had a blast! 
Here's my look!
My gown is from Fashion Nova. It is the Galant Velvet Dress in Hunter Green and it was less than $20. No Joke. 
My shoes are the Metallic Rhinestone Heels from Forever21.
All accesories are from Charlotte Russe.
The Grand Marshall's Ball 
The next up is The Grand Marshall's Ball which is the final black ball the Friday before Fat Tuesday! This ball attire is going to be inspired by the one and only Queen Bey. I want to channel some of her most recent Grammy looks. I can't Wait!
This years Carnival season has been amazing so far! 
The moral of this story, is that you don't have to spend a ton of money to have fun and look good doing it. Save your coins sis! 
I can't wait to show you the next look!